When it comes to purchasing earphones, CrossBeats is not the first name that comes to mind. However, you may have seen the brand's page on Instagram advertising, According to their website, the Indian company has been in business since 2015 and specializes in wireless personal audio devices. Now, I've been listening to their current product for approximately a month, give or take.
CrossBeats Wave Waterproof Sports Earphones are a good choice if you want a headset with a lot of basses and lengthy battery life. The athletic style gives them a very current look, and the length of the earphone cord is particularly impressive. You also receive a travel bag with the package to protect your earbuds from physical harm.
CrossBeats Wave Waterproof Bluetooth Wireless Earphones are an excellent choice for outdoor sports and workouts. It has an IPX7 waterproof rating, which ensures it can withstand even the wettest of days.CrossBeats Wave uses Bluetooth 4.1 technology and has a 10-meter range of communication.CrossBeats Wave has a 9-hour active playtime and can be charged from 0% to 100% in 2 hours.
The following functionalities are available on the headsets:
Waterproof rating of IPX7.
Sweat-Resistant.
Allows for hands-free calling.
It includes a built-in microphone.
Up to 9 hours of playback time.
Tips made of gel that are both comfortable and durable.
Ensure Your Sports Fit Designed for sports and running
Design of CrossBeats Wave Waterproof Sports Bluetooth Wireless Earphones
The CrossBeats Wave catches your attention right away. It comes in a smooth, matte material shell that isn't particularly tiny, but it's also not overly big. This isn't a wireless charging case, but it does have a Wireless connector and charges quickly.
The Black finish of the case, in particular, appeals to me since it appears to be extremely sophisticated. The earphones themselves are the same color, but the center control button on each bud has a subdued finish that adds to the overall look. Overall, the CrossBeats Wave receives excellent marks for design, well-made. If the logo is covered, on both earphones.
Comfort and fit of CrossBeats Wave Waterproof Sports Bluetooth Wireless Earphones
What struck me the most was how well the CrossBeats Wave fit into my ears. With the default ear tips, the earphones have a good weight that allows them to fit comfortably on the ears. it also has silicon Ear hooks that are comfortable to wear While this will most certainly vary, the design of the earphones makes it simple to find a good fit and a comfortable angle to use the earphones for extended periods in the activities like jogging, riding, and working out.
It remains in place when jogging and isn't too hefty to be bothersome. However, you may feel its weight in your ears, which may make you want to take them out now and again before plugging them back in. The CrossBeats Wave, on the other hand, is ideal for the ordinary user.
Calling and sound of CrossBeats Wave Waterproof Sports Bluetooth Wireless Earphones
The CrossBeats Wave also has a pleasant tone. There are, however, a few oddities here. In terms of audio performance, the CrossBeats Wave Waterproof Sports delivers reasonably clear highs and a powerful bass line, although the mids sound a little muffled, as you'd expect from most mainstream devices.
This implies that in most tracks with a distinct bass line, you will most likely hear the instruments and the booming bass above the vocals. If your phone has an equalizer, you can correct this, however, if it doesn't, the audio signature will not suit you if you want a more neutral audio balance.
Having said that, the bass response is remarkably crisp and detailed considering the price. This is nicely balanced by the highs, which sound quite clear. The good news about the sound is that the clarity is pretty good, and you won't have too many problems unless you push the volume level over 80 percent. The CrossBeats Wave Waterproof Sports is also remarkably loud, so the good news is that you don't need to crank up the volume all the time.
In essence, the CrossBeats Wave Waterproof Sports sound characteristic and timbre are suitable for casual listening during commutes, which is its intended purpose. It also works for most genres, although bass-heavy genres like funk, hip-hop, and EDM sound a little too booming, which detracts from the experience.
When it comes to phone conversations, the CrossBeats Wave Waterproof Sports is a mixed bag. Because you are in a reasonably peaceful area, you can make calls without difficulty. On the road, though, the calling performance is variable. It does appear to pick up more of the ambient noise, and the in-call audio isn't all that great. You may also need to shout to be heard on the other side, which complicates matters because you'd appear to be yelling at your neighbor's cat for no apparent reason.
Pricing of CrossBeats Wave Wireless Earphones
CrossBeats Wave Waterproof Sports Bluetooth Wireless Earphones are Available at just ₹1,599.00 which is very less than a launching offer around half of it.
CrossBeats Wave Waterproof Sports Bluetooth Wireless Earphones Specifications
General
| | |
| --- | --- |
| Model Name | Wave Waterproof Sports |
| Color | Black matte |
| Headphone Type | In-Ear |
| Inline Remote | available |
| Sales Package | 1 Headphone |
| Connectivity | Bluetooth |
Warranty
| | |
| --- | --- |
| Domestic Warranty | 3 Months |
| Warranty Summary | Seller warranty of 3 months |
| Warranty Service Type | a covered form where you purchase |
| Covered in Warranty | Warranty for Manufacturing Defects Only |
| Not Covered in Warranty | Physical, Liquid, and Electrical Damages Not Covered |
Product Details
| | |
| --- | --- |
| Sweat Proof | available |
| Foldable/Collapsible | available |
| Deep Bass | available |
| Water-Resistant | available |
| Series | Wave |
| Controls | Button Control |
| Theme | Waterproof |
| Technology Used | Bluetooth |
| Other Features | IPX-7 Rated Waterproof Headphones |
| With Microphone | available |
Sound Features
| | |
| --- | --- |
| Impedance | 32 ohm |
| Noise Reduction | 20 dB |
| Other Sound Features | Super Bass |
| Audio Codec | Yes |
Connectivity Features
| | |
| --- | --- |
| Wireless Type | Bluetooth 4.1 |
| Wireless Range | 33 m |
| Bluetooth Profiles | 4.1 |
| Bluetooth Version | 4.1 |
| Bluetooth Range | 33 m |
| Headphone Battery | 120 |
| Battery Type | Lithium-ion |
| Battery Capacity | 120 mAh |
| Play Time | 8 hr |
| Standby Time | 240 hr |
Specification seems great of CrossBeats Wave Waterproof Sports Bluetooth Wireless Earphones and I feel you should check the hw22 smartwatch specifications.
Pros and Cons of CrossBeats Wave Waterproof Sports Bluetooth Wireless Earphones
| | |
| --- | --- |
| Pros | Cons |
| Stereo music with high quality | Outdated BT v4.2 |
| Sporty appearance and a snug fit | |
| Waterproof to IPX7 standards | |
| Calling without using your hands | |
| Ear tips that are comfortable to wear | |
| Excellent noise reduction (CVC 6.0) | |
| 9 hours of battery life, 2 hours to charge | |
| Built-in microphone for calls and music control | |
Verdict
This is most likely the finest sports Bluetooth earpiece under 3000, with a plethora of helpful functions. The ear-hook design, splashproof, pleasant tips, and adequate battery backup demonstrate that the CrossBeats Wave is an excellent pick for gym-goers.
It meets all of the criteria for being in your shopping basket, whether it's for the excellent sound quality, the long battery life, or the fact that it's splashproof. Just go for it, since it will never let you down.
The tangle-free cable is strong and long-lasting. Within 33 feet, Bluetooth 4.1 CSR technology provides high-fidelity stereo audio and good voice clarity.
It boasts better CVC 6.0 noise reduction technology, which means the expanding foam ear-tips block all outside noise, allowing you to hear only the music you choose. As a result, prepare to enjoy high-quality music even in Bangalore's congested traffic!
Concerning the battery, it is designed to provide up to 9 hours of gameplay. As it takes 2 hours to fully charge, you may listen to music and make calls without interruption.
You may now have complete control over your calls or music owing to the built-in microphone. This Bluetooth earpiece works with all devices.
If you're a sports fan searching for some attractive wireless earphones, look no further. CrossBeats has the solution. Its secure fit is ideal for sports like jogging, riding, and working out.
The earbuds suit your ears like a worm and never break apart, thanks to their strong athletic fit and silicone hook. It has waterproof technology that is certified IPX7, making it ideal for exercises.
It, like the Tagg Inferno, has an ear-hook construction that ensures a secure attachment to the ears, making it perfect for running. An excellent pair of earphones for jogging that does not fall out.
Crossbeats Enigma True Wireless Earbuds
Product Features:
In the Ear
Wireless Headphones
Bluetooth 5.2
Microphone
10 m Range
20 Hz (Min) – 20 KHz (Max) Frequency Response
13 mm Driver
106 DB SPL Sensitivity
₹3,499
CrossBeats CB-TORQ True Wireless Earbuds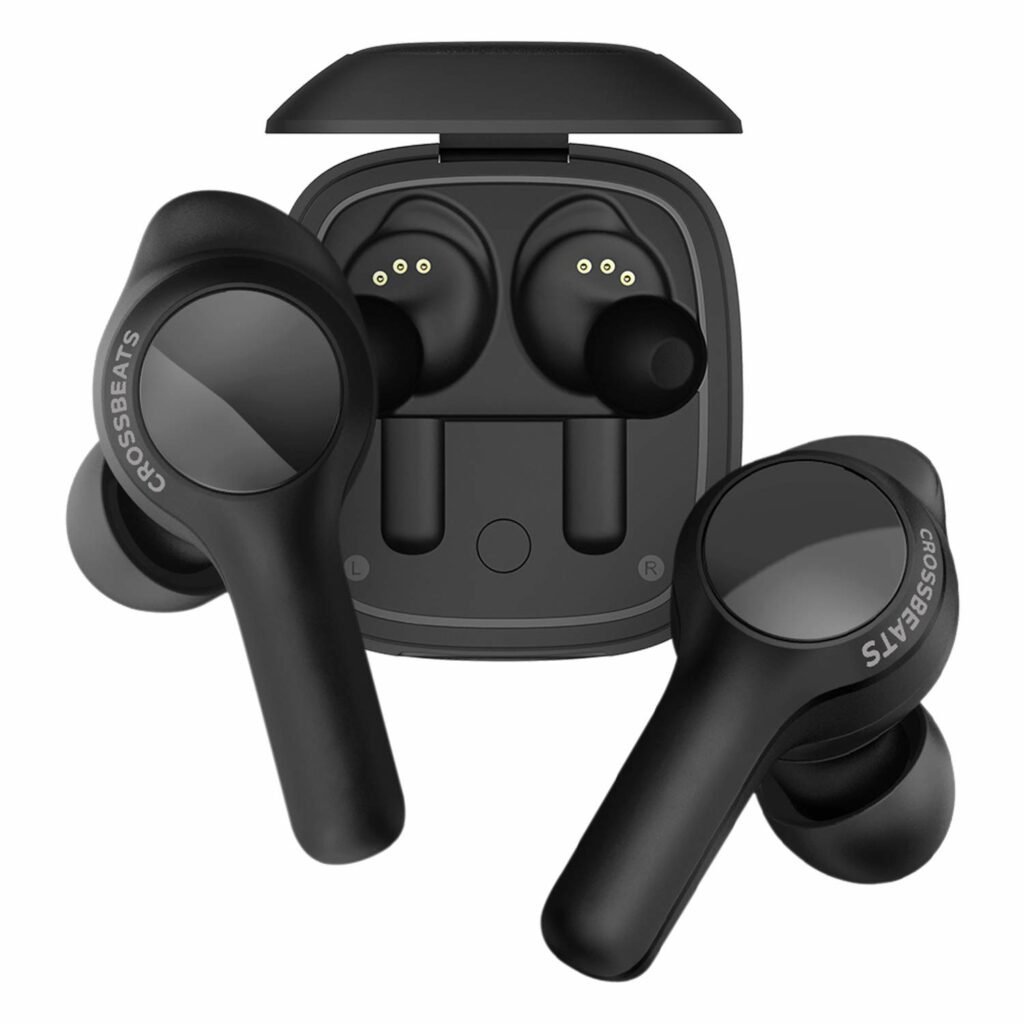 Product Features:
In the Ear
Wireless Headphones
Bluetooth 5.1
Microphone
10 m Range
20 Hz (Min) – 20 KHz (Max) Frequency Response
18 mm Driver
Deep Bass
₹4,499
CrossBeats Pulse Bluetooth Earphones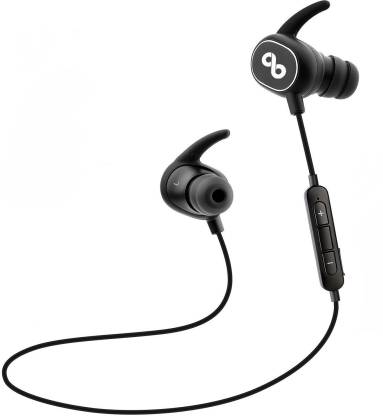 Product Features:
In the Ear
Wireless Headphones
Bluetooth 5.0
Microphone
10 m Range
8 mm Driver
32 ohm Impedance
Inline Remote
₹1,799
Crossbeats Urban Plus True Wireless Earbuds
Product Features:
In the Ear
Wireless Headphones
Bluetooth 5.0
Microphone
10 m Range
Sweat Proof
1 year
₹3,499
CrossBeats Edge Touch True Wireless Earbuds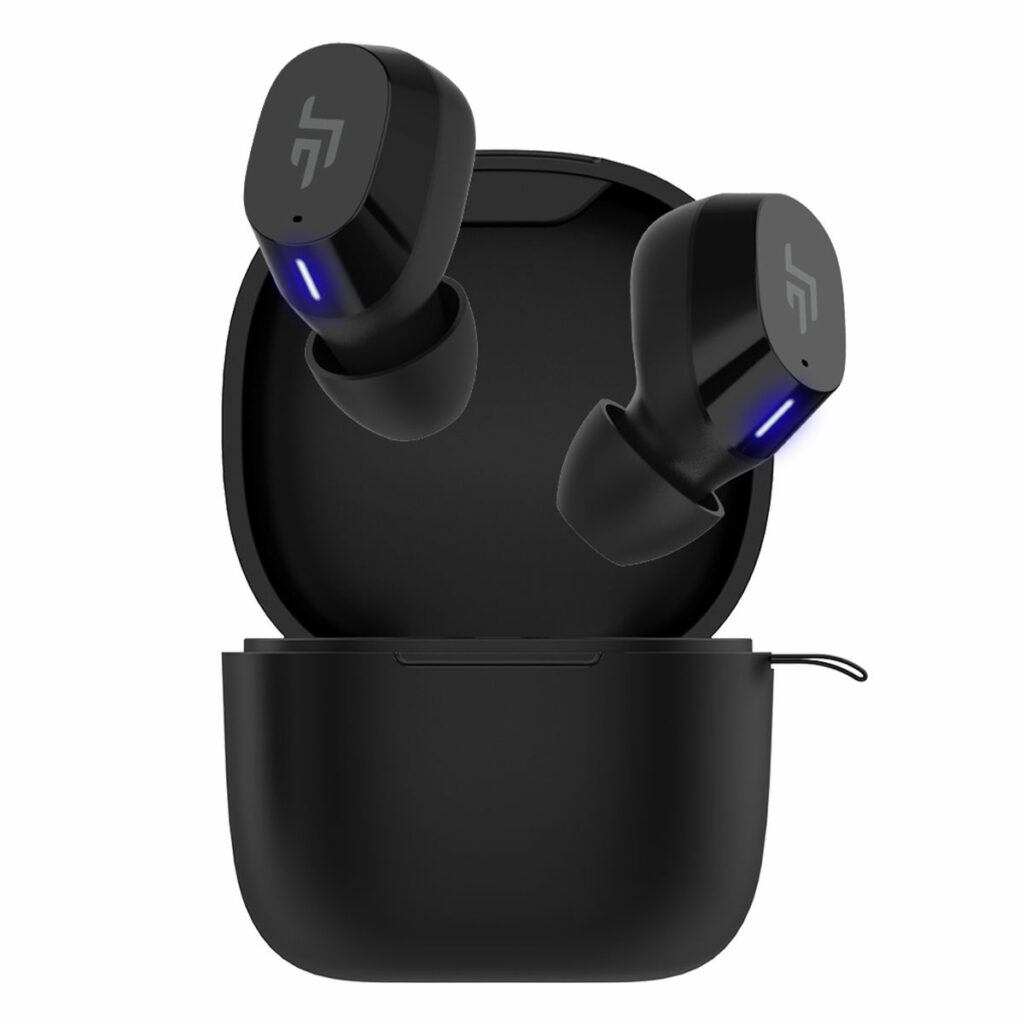 Product Features:
In the Ear
Wireless Headphones
Bluetooth 5.0
Microphone
10 m Range
20 Hz (Min) – 20 KHz (Max) Frequency Response
Sweat Proof
1 year
₹3,599
CrossBeats Wave Wireless Earphones
Product Features:
In the Ear
Wireless Headphones
Bluetooth 4.1
Microphone
10 m Range
20 Hz (Min) – 20 KHz (Max) Frequency Response
32 ohm Impedance
Deep Bass
₹1,799
CrossBeats Elektra Dual Driver True Wireless Earbuds
Product Features:
True Wireless
Wireless Headphones
Bluetooth 5.0
Microphone
10 m Range
20 Hz (Min) – 20 KHz (Max) Frequency Response
12 mm Driver
32 ohm Impedance
₹3,499
Crossbeats EVOLVE True Wireless Earbuds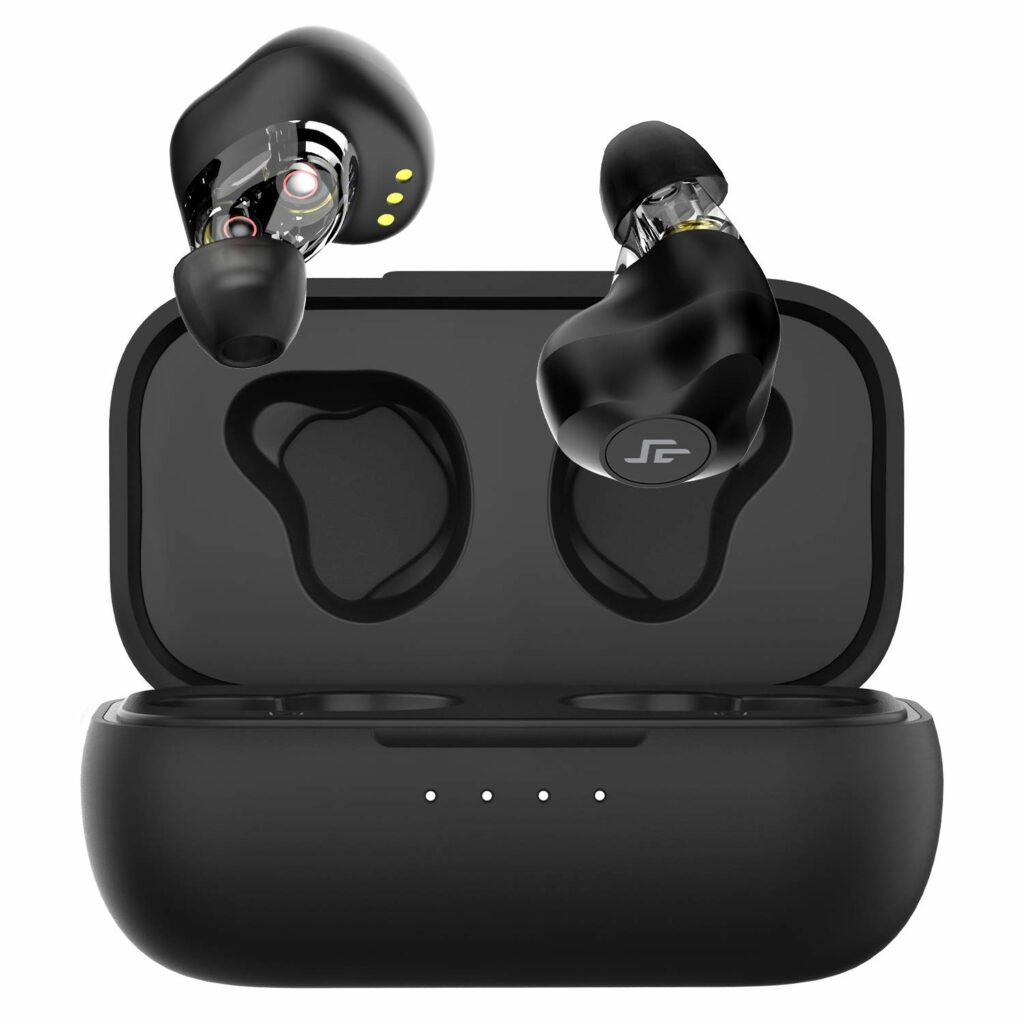 Product Features:
True Wireless
Wireless Headphones
Bluetooth 5.0
Microphone
10 m Range
20 Hz (Min) – 20 KHz (Max) Frequency Response
Inline Remote
Deep Bass
₹3,599
CrossBeats Air True Wireless Earbuds
Product Features:
True Wireless
Wireless Headphones
Bluetooth 5.0
Microphone
10 m Range
24 Hz (Min) – 24 KHz (Max) Frequency Response
12 mm Driver
32 ohm Impedance
₹4,499
Crossbeats Pebble True Wireless Earbuds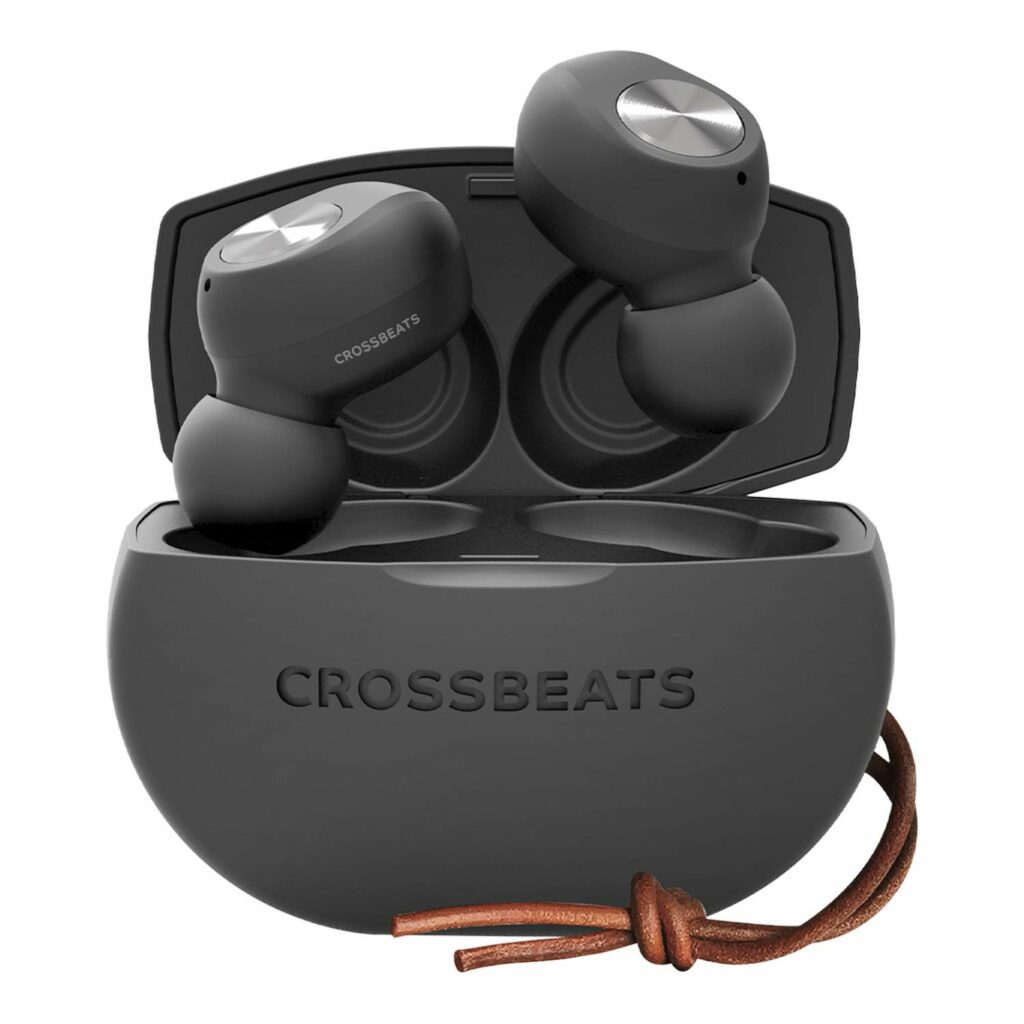 Product Features:
TWS
Wireless Headphones
Bluetooth 5.0
Microphone
10.06 m Range
Deep Bass
Sweat Proof
₹2,999
Crossbeats Raga Wireless Earphones
Product Features:
In the Ear
Wireless Headphones
Bluetooth 4.2
Microphone
10 m Range
20 Hz (Min) – 20 KHz (Max) Frequency Response
6 mm Driver
32 ohm Impedance
₹1,599
CrossBeats FUSION Bluetooth Headset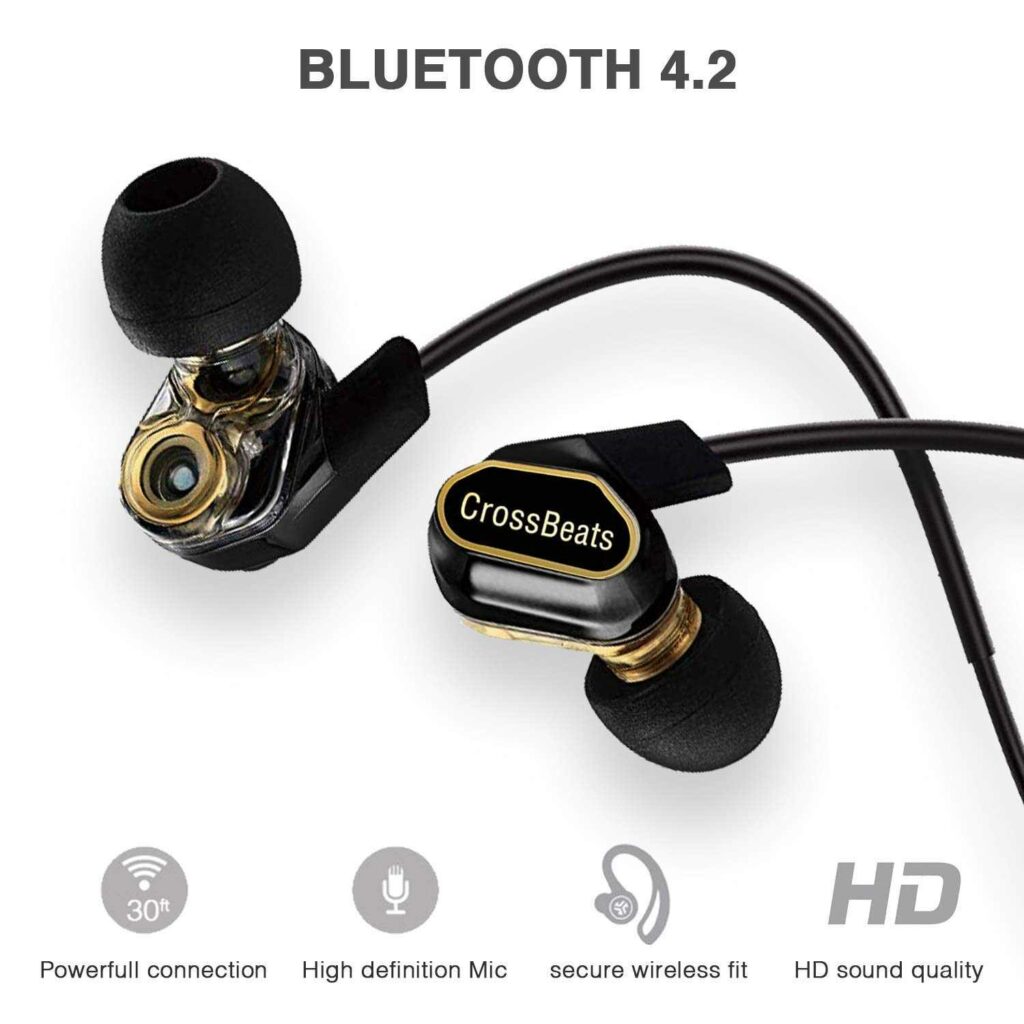 Product Features:
In the Ear
Wireless Headphones
Bluetooth 4.2
Microphone
24 Hz (Min) – 24 KHz (Max) Frequency Response
32 ohm Impedance
105dB Sensitivity
Flat Cable Cord
₹2,799
Crossbeats Vibe Bluetooth Neckband
Product Features:
In the Ear
Wireless Headphones
Bluetooth 5.0
Microphone
10 m Range
24 Hz (Min) – 20 KHz (Max) Frequency Response
32 ohm Impedance
110 dBmW Sensitivity

₹1,999
Crossbeats Urban True Wireless Earbuds
Product Features:
In the Ear
Wireless Headphones
Bluetooth 5.0
Microphone
10.06 m Range
18 Hz (Min) – 24.8 KHz (Max) Frequency Response
9 mm Driver
32 ohm Impedance
₹2,999
CrossBeats Ignite Smartwatch
Product Features:
Bluetooth 5.0
1.4 in Touch Display
Water Resistant, 30 m
Scratch Resistant
Heart Rate Monitor
SpO2 (Blood Oxygen) Monitor, Blood Pressure Monitor
Sleep Monitor, Calorie Count, Step Count
10 days Battery
₹2,999
Crossbeats Ignite S2 Smartwatch
Product Features:
Bluetooth 5.0
1.55 in Touch Display
Water Resistant, 30 m
Scratch Resistant
Heart Rate Monitor
SpO2 (Blood Oxygen) Monitor
Pedometer, Sleep Monitor, Calorie Count, Step Count
10 days Battery
₹4,999
Product Features:
Bluetooth 5.0
1.3 in Touch Display
Water Resistant
Heart Rate Monitor
SpO2 (Blood Oxygen) Monitor, Blood Pressure Monitor
Pedometer, Sleep Monitor, Calorie Count, Step Count
10 days Battery
Alarm Clock, Stopwatch, Reminder, Timer
₹4,499
Crossbeats Trak Smartwatch
Product Features:
Bluetooth 5.0, GPS
4 GB Inbuilt
1.38 in Touch Display
Water Resistant, 10 m
Scratch Resistant
Heart Rate Monitor
Blood Pressure Monitor
Altimeter, Pedometer, Calorie Count, Step Count
₹3,799
Crossbeats Ace Smartwatch
Product Features:
Bluetooth
1.3 in Touch Display
Water Resistant, IP68
Heart Rate Monitor
Pedometer, Sleep Monitor, Calorie Count, Step Count
15 days Battery
Stopwatch
158 g Weight
₹3,799
You can buy Crossbeats products from their official site
Use "TECHNOZIVE" as a Coupon code to get a great discount
Crossbeats Orbit Sports Smartwatch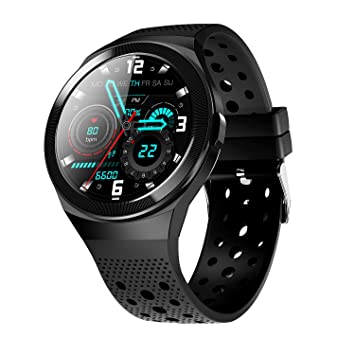 Product Features:
Bluetooth 5.0
1.3 in Touch Display
Water Resistant, IP68
Heart Rate Monitor
SpO2 (Blood Oxygen) Monitor
Pedometer, Sleep Monitor, Calorie Count, Step Count
10 days Battery
Stopwatch
₹4,999
Also, Read
Also, Read