The Bose Corporation is an audio equipment manufacturer based in the United States. Amar Bose founded the company in 1964, and it is situated in Framingham, Massachusetts. but still many peoples get questions like Bose company belongs to which country? Who is the owner of Bose company? Is Bose made in China? Bose company is from which country? so in this article technozive will answer all your questions.
Home audio systems and speakers, noise-canceling headphones, professional audio equipment, and vehicle sound systems are among Bose's most well-known goods. Bose has a reputation for fiercely guarding its patents, trademarks, and brand names.
The Massachusetts Institute of Technology, which receives cash dividends from the founder Amar Bose's non-voting shares donated in 2011, is the primary owner of Bose Corporation. According to the company's annual report for the 2019 fiscal year, Bose Corporation made $4.0 billion in revenue and employed over 9,000 people.
Engineered materials, biomaterials, and medical devices are among the products that Bose offers for testing. Professional sound systems are also available for auditoriums, hotels, performance centers, places of worship, restaurants, retail businesses, schools, stadiums, and other venues; stage loudspeakers, controllers, and accessories; automotive sound systems for sports cars, sedans, SUVs, trucks, and compacts; wave systems and accessories for home and office; and noise-canceling, audio, and acoustic treatments.
Bose offers a variety of products for the education business, including wave music systems, digital music systems, around-ear headphones, and multimedia speaker systems. Its engineered audio solutions can be used in classrooms, meeting rooms, auditoriums, gymnasiums, and performance centers as stand-alone sound systems or integrated with current technologies.
True to Life is a Bose-produced stage production that features original music, footage from significant movie pictures, and moving imagery.
Dr. Amar G. Bose created Bose in 1964, and the company is based in Massachusetts, with operations in Europe, Canada, Australia, Asia, and South America.
Bose company belongs to which country?| Bose company is from which country?
Bose company is from Massachusetts, United States country.
The primary goal of the Bose founders was not to make money quickly. It was all about developing a culture that valued invention and teamwork above all else, as well as producing new technology that would actually benefit people. I'm in it for the long haul. When you achieve this, good things usually happen.
Better sound is only the start. Engineers, developers, researchers, retailers, marketers, and dreamers at Bose. Bose is united by a single goal: to create products and experiences that our customers can't get anywhere else. I hope you got the answer to your question Bose company belongs to which country.
Is Bose made in China?
Bose's products are made in the United States, Mexico, China, and Malaysia, among other places. Framingham, Massachusetts (also the company headquarters), Westborough, Massachusetts, and Stow, Massachusetts are the locations of the company's factories in the United States.
As part of a "global restructuring of Bose's supply chain," two sites in Columbia, South Carolina, and Carrickmacross, Ireland, were shuttered in 2015 (with the loss of 300 and 140 jobs, respectively). Bose used the Columbia facility for distribution and repair, sub-manufacturing and regional manufacturing, and final assembly for some headsets, which debuted in 1993. The Carrickmacross factory, which opened in 1978, completed the final assembly for home theatre systems, Wave radios, and other regional products. In 2016, contract manufacturer Flex took over the management of the San Luis and Batu Kawan plants and continues to make Bose goods.
Why is Bose so expensive?
Bose contributes to research in addition to investing in new speaker development. The company doesn't just sell; they market their products extensively to reach out to all potential customers.
Bose speakers are so expensive because the company designs them for the human experience, uses advanced technology, and spends a lot of money on research. Bose has also attracted a customer base that is confident in the sound quality of its speakers. Because they are a well-known brand, they can charge a high price and still attract customers.
Is Bose going out of business?
Bose is closing all of its storefronts in the United States as the retail industry undergoes a "dramatic change to internet buying." Bose, a firm that makes audio equipment, is closing 119 sites around the world, including all of its stores in the United States. The news of the store closures was first revealed by Sacramento's CBS affiliate on Wednesday.
Is Bose still the best?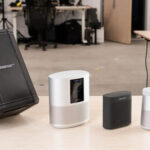 Bose speakers are well worth the investment, but only in particular situations. While their portable Bluetooth speakers are among the best in the industry, if you're looking for a home surround sound system, you might be able to find a better alternative for the same price.
If you're looking for a pair of over-the-ear headphones, Bose headphones are definitely worth looking into. They're normally pricey, but when compared to other brands on the market, they blow many others out of the water in terms of sound quality.
There are a few speakers that they produce that are rather good. Although their portable Bluetooth speakers are a little more expensive than the lowest on the market, they are generally of good quality. The Bose Soundlink series is the best example of this.
You may also like to read Is Sony is an Indian company
History Of BOSE
Amar Bose launched the company in Massachusetts in 1964 with the help of angel investors, including Y. W. Lee, Amar's thesis advisor, and professor. Amar became interested in speaker systems after purchasing a stereo system in 1956 and being dissatisfied with its performance. The company's goal was to create speaker systems that reflected and replicated the sound of a performance hall by using many speakers targeted at the surrounding walls.
The Bose 2201 was the company's first product, released in 1966. It had an odd design, with 22 speakers, many of which faced away from the listener. 2201 was created to be placed in a room's corner, allowing reflections off the walls to expand the room's perceived size. 2201 was a market failure and was phased out after three or four years.
Following this experience, Amar concluded that traditional audio system testing approaches (such as evaluating distortion and frequency response) were ineffective in assessing the goal of realistic sound reproduction. The best gauge of audio quality, according to Amar, is the listener's perception. The Bose 901 stereo speaker system, which featured eight mid-range drivers pointing towards the wall behind the speaker and a ninth driver pointing towards the listener, was also released in 1968.
The goal of this design was to make reflected sound dominate over direct sound in-home listening environments. In comparison to other systems, the 901's design places the mid-range and high-frequency speakers squarely in front of the listener. The 901 was a commercial success right first, and Bose Corporation flourished quickly in the 1970s. For many years, the Bose 901 model designation was a mainstay of the Bose line-up, being produced from 1968 until 2016.
A group of Bose scientists discredited a 1989 experiment that claimed to have created energy using cold fusion in 1991.
In Kittery, Maine, the first Bose retail store opened in 1993. Bose said that all of its retail outlets in North America, Europe, Japan, and Australia would close in 2020, but that 130 stores in India, Southeast Asia, South Korea, China, and the United Arab Emirates would remain operational.
Amar Bose, the company's then-chairman and largest owner donated the bulk of the company's non-voting shares to his alma mater, the Massachusetts Institute of Technology, in 2011. A cash dividend is paid out every year to "further MIT's research and education objectives." However, MIT was not allowed to sell the shares, nor was it allowed to engage in the company's management or governance, according to the terms of the agreement. Following the death of Amar Bose in 2013, Bob Maresca was named Chief Executive Officer.
Bose and Flex Manufacturing extended their strategic collaboration in June 2016. Flex will take over Bose's business in Malaysia and Mexico.
Maresca stepped aside as CEO at the end of 2017, and Bose President Phil Hess took over. Maresca, on the other hand, remained Chairman of the Board.
Bose said in January 2020 that all of its more than 100 retail outlets in North America, Japan, Europe, and Australia would close. On their own website, as well as Target, Best Buy, and Amazon, they will keep their online presence.
President and COO Jim Scammon took over as CEO in late January 2020, replacing Phil Hess.
Lila Snyder, a former executive of Pitney Bowes, was selected as Bose's first female CEO in August 2020. Snyder obtained her master's and doctoral degrees in mechanical engineering from MIT, and she will begin her new role in September 2020.
Who is the owner of Bose company?
Amar G. Bose is the owner of Bose company
For a little over half a century, the company has been producing speakers, headphones, and audio equipment based on extensive acoustic research. The company pioneered a whole new approach to speaker design in the 1960s. Later, it became the first company to design bespoke audio systems for cars and introduced the world's first commercial noise-canceling headphones.
Professional pilots wear Bose headphones today, and space shuttle astronauts have worn them in the past. Luxury brands such as Maserati and Maybach have factory-installed their automobile audio systems. And improved versions of its original product, the Bose 901 speaker, are still available.
Is Amar Bose Indian?
Amar Gopal Bose was an entrepreneur and professor from the United States. He was a professor at the Massachusetts Institute of Technology (MIT) for nearly 45 years as an electrical engineer and sound engineer. Bose Corporation was also founded by him, and he served as its chairman.
Bose was born in Philadelphia, Pennsylvania, to Noni Gopal Bose, a Bengali Hindu father, and Charlotte, an American mother with French and German ancestry. His father was an Indian freedom fighter who fled Bengal in the 1920s to avoid further persecution by the British colonial police after being imprisoned for his political activities. Charlotte, his mother, is characterized as an American schoolteacher of French and German descent, but according to Bose, she is "more Bengali than I." She was a vegetarian with a passion for Vedanta and Hindu philosophy.
Bose initially demonstrated his entrepreneurial skills and passion in electronics at the age of thirteen, when he sought the help of his classmates in a modest home company fixing model trains and home radios to augment his family's income during World War II.
Bose enrolled at the Massachusetts Institute of Technology after graduating from Abington Senior High School in Abington, Pennsylvania, and graduated with a BS (Bachelor of Science) in Electrical Engineering in the early 1950s. Bose spent a year as a Fulbright research student in New Delhi, India, where he met his future first wife, and a year at Philips Natuurkundig Laboratorium in Eindhoven, Netherlands. He earned his Ph.D. in Electrical Engineering from MIT, where he worked on a thesis on nonlinear systems with Norbert Wiener and Yuk-Wing Lee.
Who Is Brand Ambassador Of Bose?
 Golfer Rory McIlroy Is Brand Ambassador Of Bose
Rory McIlroy, a golfer, has signed an agreement with Bose to become a global brand ambassador for their headphones and other items.
Bose Corporation announced a multi-year relationship with the world's number one golfer during the Honda Classic event in Palm Beach Gardens, Florida.
McIlroy, who is ranked by SportsPro as the world's second most marketable athlete behind Brazilian footballer Neymar, will be a spokesperson for Bose headphones, portable speakers, and home and in-car audio systems.
McIlroy is a "once-in-a-generation athlete," according to Bob Maresca, president of Bose Corporation.
What is the net worth of Bose?
$1.8 BILLION (2021) is the net worth of Bose
After WWII weakened his father's import business, former violinist Amar Bose began repairing radios in high school. MIT awarded Fulbright scholar a Ph.D. in electrical engineering. started looking at hi-fi sound. Bose Corporation was founded in 1964. The first contracts were with NASA and the United States military to improve audio communications. The company built its reputation on ground-breaking loudspeaker design. Bose iPod docks, surround-sound home entertainment speaker systems, and noise-canceling headphones now dominate the market; the company's loudspeakers may be found in the Sistine Chapel and other Olympic stadiums.
You may also like to read Is LG A Chinese Company
Bose Products
Automotive
Bose's first OEM audio installation in an MY1983 Cadillac Seville, following an unsuccessful attempt to sell aftermarket car speakers.
Since then, Bose has provided audio systems to a variety of automobile manufacturers. The International Telematics Award for "Best Storage Solution for In-Car Environment" was given to the Bose media system in 2007.
The business unveiled a prototype active suspension system in 2004 that used electromagnetic motors instead of hydraulic/pneumatic power and was scheduled to be released in 2009, but it never materialized owing to weight and expense concerns. In response to uneven bumps or potholes on the road, the system used electromagnetic linear motors to raise or lower the wheels of an automobile.
When approaching a bump (or lowering into a pothole), the wheels are elevated to keep the car level, similar to how noise-canceling audio systems work. A prototype automobile was capable of leaping over a barrier. Even after more than 20 years of research for $100 million, the corporation claims that the system is too expensive and heavy. It was reported in November 2017 that Bose has sold the technology to ClearMotion. Five major car manufacturers expressed interest in the technology in May 2018, and it is expected to be ready in 2019 for low-volume vehicles and by 2020 for the mass market.
In 2010, the Bose Ride truck seat system was released. By decreasing vibration from the road, this active seat technology seeks to alleviate fatigue, back discomfort, and physical stress experienced by truck drivers. The vibration in the driver's seat was reduced by up to 90%, according to Bose.
Buick, Cadillac, Chevrolet, Fiat, GMC, Honda, Hyundai, Infiniti, Kia, Mazda, Mitsubishi, Nissan, and Porsche are among the automakers that provide Bose audio systems.
Headphones
Since 1989, the company has sold aircraft headsets and consumer headphones. Over-ear, in-ear, aircraft, and military variants are among the current headphones/headsets available.
The US military and NASA have both signed contracts with Bose.
Home Audio and video
The following are some of Bose's products:
Bass-inducing speakers
Home Theatre (2.1 systems, 5.1 systems and speaker packages)
Media player on the go (marketed as "SoundLink")
Speakers in stereo (marketed as "Wave Systems", "SoundDock" and "SoundLink Air")
Audio in the car
In 2012, Bose was the most popular brand of retail home theatre systems in the United States and the third most popular brand of portable audio goods.
Commercial sound systems
In 1972, the Bose Professional branch was founded to design and install public address systems. The division accounted for almost 60% of Bose's yearly revenue in 2009. Bose was the first firm to pay for the honor of being the official sound system supplier for the 1988 and 1992 Winter Olympics in Calgary and Albertville, respectively. THX accreditation has not been granted to Bose's systems.
For musicians, the Bose L1 is a line of portable line array loudspeaker systems. The L1 was first debuted in 2003, with versions dubbed the "L1 Classic" series retroactively. In 2007, the "L1 Model I" and "L1 Model II" were introduced to replace these products. In April 2009, a smaller and lighter "L1 Compact" model was introduced. In 2012, the L1 Model I was replaced by the "L1 Model 1S," and the "B1 Bass Module" by the "B2 Bass Module."
Bose has been providing businesses with 25-volt and 70-volt installed commercial audio systems since the 1980s.
| | |
| --- | --- |
| What is the net worth of Bose? | $1.8 BILLION (2021) |
| Who Is Brand Ambassador Of Bose? |  Golfer Rory McIlroy |
| Is Amar Bose Indian? | Bose was born in Philadelphia, Pennsylvania |
| Who is the owner of Bose company? | Amar G. Bose |
| Is Bose still the best? | Bose speakers are well worth the investment, but only in particular situations. |
| Where is Bose company from?| Bose company is from which country?|Bose company belongs to which country? | Massachusetts, United States |
Also, Read