Why is TikTok banned? What Is TikTok? Who Owns TikTok? What company owns TikTok? Everything You Need to Know About TikTok Is Explained We use a company's products regularly but have no idea where they came from, just as few people know where TikTok began. You all understand why, and in this case, customers are learning about the product as well as the company's history.
TikTok, also known as Douyin in China, is a video-focused social networking service owned by ByteDance Ltd. It features a wide range of short-form user videos with durations ranging from 15 seconds to three minutes, including pranks, stunts, tricks, jokes, dance, and entertainment. TikTok is the international version of Douyin, which was first released in China in September 2016.
What Is TikTok?
TikTok is a video-sharing app that allows users to make and share 15-second videos on any subject.
TikTok has a separate app called Duyin for the Chinese market, which has over 300 million active monthly users. The new app's logo combines elements of the Musical.ly and Duyin logos.
What is the point of TikTok?
The most important thing to remember about TikTok is that it is popular among children and teenagers. Adults frequently struggle to understand the significance of anything in youth culture that was not a part of their upbringing. It's a new way for Generation Z to interact and communicate with one another. Youth have flocked from MySpace to Facebook (until their parents followed them there), Snapchat to Instagram, and now TikTok since the advent of social media. A phone is an extension of the body for Generation Z.
Why is TikTok banned?
TikTok has been threatened with a ban in the United States by President Trump. TikTok's request for a temporary injunction against the Trump administration's push to ban the app in the United States was partially granted by a federal judge. Government lawyers argue that TikTok's ownership by a Chinese firm posed an "immediate threat" to national security and that the app's American users' data could end up in the hands of the Chinese government. There are also proposals for US investors to acquire TikTok in the United States.
Why is TikTok so popular?
In this article, we discussed several reasons why TikTok is so popular. Among these reasons are:
TikTok's popularity has been boosted by celebrity endorsements, including Jimmy Fallon.
Localized content – the app frequently runs local contests and challenges, as well as captures local trends with localized hashtags.
Simple content creation, sharing, and viewing – due to the short format, neither video creation nor viewing requires much time or effort. Furthermore, the short-form video content begins playing as soon as the user launches the app.
Is there a kid version of TikTok?
The average TikTok user is in their twenties. Many of the regular TikTok app's users are children or those who are just a little older. TikTok is set to "Public" by default, but you can protect your children if you change that setting to "Private." Only people you approve can follow, comment on, and like your videos when you use a private account. If you still want your child's account to be public, uncheck "Allow others to find me."
Why is TikTok so addictive?
When you open TikTok, a new video begins to play automatically. Based on your viewing history, the TikTok algorithm usually does a good job of selecting a video you'll enjoy. Because each clip is only a few seconds long, you won't be bored by the videos, and if you don't like one, you can easily move on to the next one. Some argue that watching videos is similar to playing a slot machine, with you constantly "betting" on what will appear next.
What is the purpose of TikTok?
TikTok is a social media platform that allows users to create, share, and discover short videos. Young people use the app to express themselves through singing, dancing, comedy, and lip-syncing, and it allows users to create videos and share them with a community.
Why is TikTok harmful?
Many security researchers have discovered security flaws in the TikTok app. They range from hackers gaining unauthorized access to accounts via SMS messages to issues with the use of HTTP and HTTPS when delivering videos.
Is TikTok safe?
TikTok lacks end-to-end encryption, which makes sending private or personal direct messages less secure. "Avoid clicking links from unknown users and block posts from accounts you don't know," Gaffney advises.
Is TikTok still spyware?
NO, Not at all TIKTOK is not a spy app, But it doesn't take data like all other apps. Using any social network can be dangerous, but with adult supervision, children can use the app safely (and a private account)
Is TikTok free to download?
TikTok is a free social app for creating, editing, and sharing videos. Since ByteDance created it in 2016 for the Chinese market on Android and iOS, it has grown in popularity all over the world. The software can also be used on a PC by downloading the file and installing it on a mobile emulator.
Who uses TikTok?
TikTok has 50 million daily active users in the United States, which equates to 18.68 percent of American mobile internet users. In America, 37.3 percent of TikTok's Gen Z users use the social media platform at least once per month. In March 2020, Americans aged 18 and up will spend 1.43 billion hours on TikTok.
What is different about TikTok?
Many users use the video-sharing platform to express themselves and share their lives in interesting ways. TikTok primarily displays video content with a duration of 15 seconds. While it is possible to share videos of up to one minute in length, there are no options for longer-form video or image or text sharing.
What age group is TikTok for?
TikTok users must be at least 13 years old. While this is fantastic news for younger users, it's worth noting that TikTok does not use any age verification tools when new users sign up.
How much is TikTok worth?
It is simple to calculate its worth. TikTok's valuation in 2020 is estimated to be $50 billion. Some experts believe that this figure will be higher than this in 2023, with the figure sitting at $75 billion.
Who Founded TikTok?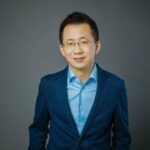 Zhang Yiming Founded TikTok
Zhang Yiming is a successful Chinese internet entrepreneur. In 2012, he founded ByteDance and created the news aggregator Toutiao as well as the video-sharing platform TikTok, formerly known as Musical.ly. Zhang's wealth is expected to be $44.5 billion in 2021, according to the Bloomberg Billionaires Index. Zhang Yiming stepped down as CEO of ByteDance on November 4, 2021, completing a leadership transition announced in May 2021.
Why did Zhang Yiming create TikTok?
Zhang believed that Chinese smartphone users were having difficulty finding information in mobile apps available in 2012 and that the search giant Baidu was mingling search results with undisclosed advertising. His vision was to deliver relevant content to users through artificial intelligence-generated recommendations. Most venture capitalists, however, did not share his vision, and he was unable to secure funding until Susquehanna International Group agreed to invest in the startup.
With little fanfare, ByteDance launched its video-sharing app TikTok (known as Douyin in China) in September 2015. The product was an instant hit with millennials and quickly gained popularity around the world. A year later, ByteDance purchased Musical.ly for $800 million and integrated it into TikTok.
Who owns TikTok?
ByteDance owns TikTok
In December, ByteDance, the Chinese internet company that owns TikTok, laid off a global team in its human resources department. According to one former HR employee, members of the company's Talent Development team learned that their roles would be eliminated during a five-minute town hall meeting.
Who is the CEO of TikTok?
Shou Zi Chew is the CEO of TikTok
Shou Zi Chew, a Singaporean businessman, was appointed CEO of TikTok in May 2021 and has been the CFO of ByteDance since March 2021.
Shou Zi Chew, a Harvard Business School graduate, was always destined for greatness. He began his career as an investment banker at Goldman Sachs in London before moving on to become the CFO and President of International at Xiaomi Technology.
Since then, he has transitioned to ByteDance and TikTok, where he has overseen the company's rapid growth.
Which country uses TikTok most?
In the United States, TikTok had an estimated 65.9 million monthly active users. During this time, Indonesia had the second-largest user base, with over 22 million monthly active users. Russia and Japan came in second and third place, with 16.4 million and 12.6 million monthly active users, respectively.
Which country uses TikTok most?
In the United States, TikTok had an estimated 65.9 million monthly active users. During this time, Indonesia had the second-largest user base, with over 22 million monthly active users. Russia and Japan came in second and third place, with 16.4 million and 12.6 million monthly active users, respectively.
TikTok belongs to which Country?
TikTok belongs to China
Evolution. ByteDance launched Douyin in September 2016 in Beijing, China, originally under the name A.me, before rebranding to Douyin in December 2016.
Which countries banned TikTok?
Over the content concerns, countries such as Indonesia, Bangladesh, India, and Pakistan have issued temporary blocks and warnings on TikTok
Was TikTok ever banned in the US?
Former US President Donald Trump attempted to ban TikTok in September 2020, claiming it was a threat to national security.
Concerns have been raised about the platform's user privacy and data collection.
TikTok and a few of its influencers later filed a lawsuit against Trump, which blocked the ban, and no further action has been taken.
Where is TikTok headquarter located?
TikTok headquarters is located in Culver City
TikTok is headquartered in Culver City, California, and has offices in four countries. 
Who Has The Most Followers on TikTok?
Charli D'Amelio Has The Most Followers on TikTok
Charli D'Amelio is the most-followed person on the platform, with over 136 million followers. Loren Gray, the previous most-followed account, was surpassed on March 25, 2020.
Who has the top 10 most followers on TikTok?
| # | PROFILE | FOLLOWERS | LIKES | POSTS |
| --- | --- | --- | --- | --- |
| 1st | Charli D Amelio  | 137,000,000 | 10,600,000,000 | 2,097 |
| 2nd | Khabane lame  | 133,000,000 | 2,100,000,000 | 1,025 |
| 3rd | Bella Poarch  | 88,100,000 | 2,000,000,000 | 446 |
| 4th | Addison Rae  | 86,700,000 | 5,600,000,000 | 1,625 |
| 5th | Zach King  | 67,400,000 | 849,000,000 | 326 |
| 6th | Will Smith  | 66,300,000 | 437,300,000 | 130 |
| 7th | TikTok  | 60,800,000 | 264,800,000 | 248 |
| 8th | Kimberly Loaiza  | 59,900,000 | 3,500,000,000 | 1,747 |
| 9th | dixie  | 57,000,000 | 3,200,000,000 | 362 |
| 10th | cznburak  | 56,500,000 | 1,000,000,000 | 1,751 |
Does TikTok really know everything?
It's no secret that TikTok has been embroiled in a number of controversies in recent years. According to Statista, the wildly popular social media platform is expected to have 84.9 million users by 2023.
TikTok users spend hours scrolling through a seemingly endless stream of short videos, which is one of the reasons it has become so popular.
However, the app has been chastised for collecting vast amounts of user data, not being transparent about sharing it, and not disclosing which third parties have access to it.
Two recent studies have revealed that TikTok has circumvented important privacy safeguards, allowing its parent company, ByteDance, complete access to user data.
Here are the findings of these two studies, how they affect TikTok users, and what they can do to protect their privacy while using the smartphone app.
Two Major Research Projects The Wrap has certified this product.
The Wrap, an entertainment news outlet, recently confirmed the findings of two studies that discovered TikTok can bypass security measures in the Google and Apple app stores.
This gives the app complete access to the user's data. TikTok is able to avoid code audits on the Apple App Store and Google Play, which is concerning.
Furthermore, white hat cybersecurity experts discovered that TikTok can change the app's behavior at any time without notifying users. It can use device tracking to gain complete access to user data, including sensitive information like demographics.
What is the significance of this? These are significant findings that demonstrate how TikTok differs from most social media platforms in the United States. It even outperforms Facebook, Instagram, and other apps.
The app's code is difficult to monitor, according to experts, but TikTok believes its methods are standard. According to Russ Jowell, a mobile development expert at BestApp.com, ByteDance has gone to great lengths to conceal TikTok's inner workings.
These studies come at a time when millennials and Gen Zers are spending more time than ever before watching videos on their smartphones. In fact, 48% of millennials exclusively watch videos on their mobile devices.
Overall, these two studies looked at TikTok's source code and how the app collects data.
Contact information
The ID of the device
Clipboard operations
When data is sent back and forth to TikTok's servers, it is hidden.
While these studies are new, they are not the first time TikTok has been questioned about its privacy, what it does with user data, and how secure people's cybersecurity is.
Is TikTok Safe to Use?
Unfortunately, there is no short answer — TikTok is a generally safe app. Nonetheless, it collects data that some users may find objectionable.
TikTok, for example, will track which videos users watch and for how long. The contents of your messages, as well as your country location, IP address, and the device you're using, are all tracked.
TikTok can track your exact location, phone contacts, and other social media information, age, phone number, and even payment methods. This creates a profile of you to aid in its ad-targeting practices.
There are steps you can take to protect your privacy while using TikTok, such as keeping your profile private, creating a strong password, enabling two-factor authentication, and turning off password saving. Users can also download their data and see what information is being gathered.
To download TikTok data, go to Profile, tap the three horizontal lines in the upper right corner, and then go to the Privacy section. Tap Download Your Data and then Request Data from there.
Within four days, a link to the information will appear in that section. You can see what data TikTok collects on a regular basis.
Your data, however, will only be available for four days after the link appears.
TikTok and User Privacy
These studies demonstrate how TikTok can avoid running code audits while still accessing user data. Of course, it is entirely up to you whether or not to use the app, depending on how much information you are willing to share.
To protect yourself, regardless of which social media apps you use, it is prudent to exercise caution and employ the best cybersecurity practices.
Also, Read
What Type Of Company Is Walmart?
The History of TikTok:
TikTok wasn't always at the forefront of viral internet culture, but since combining with Musical.ly, the platform has seen unprecedented success. Where did it all begin?
TikTok has become a hotspot for viral content in recent years. This app has everything, from viral dances to bizarre trends.
Its user base has grown so large that the platform can now propel songs like Olivia Rodrigo's 'Drivers License' to global success and turn ordinary teenagers like Addison Rae and Charli D'Amelio into overnight celebrities.
So, how did the platform evolve into what it is today?
ByteDance debuts Douyin in September 2016.
Before TikTok, there was Douyin, a Chinese app. The ByteDance-owned app was originally called A.me, but it was renamed in December after a few months.
Within a year, the app had approximately 100 million users, and with over a billion videos viewed per day, the venture was unquestionably a success. This piqued the company's interest in venturing into the international market, and TikTok was born in September 2017.
Musical.ly is purchased by ByteDance in November 2017.
Musical.ly was officially launched in August 2014, and it included many of the same features that TikTok does today. Users could make short videos lip-syncing to popular songs and interact with other users through trending sounds and hashtags.
ByteDance, based in Beijing, is a multinational internet technology company.
ByteDance paid up to $1 billion US dollars on November 9, 2017, to acquire Mucical.ly, which had offices in both Shanghai and California.
On August 2, 2018, Musical.ly merged with TikTok, combining existing data and accounts to create one app and a larger community. The name was kept as 'TikTok,' implying the end of Musical.ly as it was known to users.
TikTok surpasses one billion global downloads in February 2019.
TikTok reached 1 billion downloads globally in February 2019, according to the analytics site Sensor Tower (excluding Android downloads from China.) The app was quickly gaining traction in countries such as India, which accounted for more than 40% of total downloads in 2018.
The merger with Musical.ly was a huge success, and TikTok's growth showed no signs of slowing.
TikTok will be banned in India in June 2020.
TikTok, along with 223 other Chinese apps, was completely banned in India on June 29. According to the Ministry of Electronics and Information Technology, the app was "prejudicial to the sovereignty and integrity of India, defense of India, state security, and public order."
In July 2020, the Creator Fund was established.
While TikTok creators could always make money through brand deals and other ventures, there was no direct way to make money from video views at first.
That changed when they launched the $200 million Creator Fund, which was designed to financially support growing creators on the app. Shortly after its announcement, the fund was predicted to grow to $1 billion in the United States over the next few years, and double that globally.
Donald Trump attempts to effectively ban TikTok in August 2020.
Former US President Donald Trump attempted to ban TikTok transactions within the country in one of the biggest controversies since the app's inception. On August 6, he signed an executive order stating that transactions would be prohibited if Bytedance did not sell the app within 45 days.
TikTok filed a lawsuit against the Trump administration in September 2020.
TikTok filed a lawsuit against Trump on September 18 in retaliation, requesting a preliminary injunction to prevent the app from being banned. The order that would prevent TikTok from being downloaded in the United States was then blocked by Judge Carl J. Nichols.
He later issued a preliminary injunction against the Commerce Department, effectively prohibiting them from imposing restrictions on the app.
The situation caused quite a stir at the time, with many wondering if this was truly the end of TikTok, despite its enormous popularity. Many popular creators were already looking for alternative apps to use if TikTok were to be banned in the United States.
Charli D'Amelio is the first Instagram account to reach 100 million followers – November 2020
Then, at the age of 16, Charli D'Amelio made history by becoming the first TikTok account to surpass 100 million followers, surpassing even TikTok's account.
The star rose to prominence after posting videos of herself performing famous TikTok dances and lip-syncing to viral songs, quickly amassing a massive fan base.
Since becoming famous on the app, the dancer has gone on to launch a podcast with her older sister Dixie, get her drink at Dunkin' Donuts, and collaborate with a wide range of brands, including the launch of their custom-designed mattress.
TikTok will be banned in Pakistan in March 2021.
TikTok was previously banned in Pakistan in October 2020 due to 'indecent content.' However, ten days after the ban was imposed, it was lifted on October 19.
This decision, however, did not last long, as the country blocked the app again on March 11 in response to similar complaints of indecent content.
With TikTok's popularity constantly growing and its stars becoming more involved in mainstream media, it appears that the platform will only continue to evolve in the coming years.
The TikTok app's current popularity is astounding, but it does not guarantee that it will ever reach the levels attained by other social networks such as Instagram and YouTube. Vine was a very popular video-sharing platform back in the day, but it is now completely gone. And numerous other apps rose to prominence quickly and then vanished.
TikTok will need to keep innovating and finding new ways to engage its user base to maintain its current popularity. They will also need to make the platform more brand-friendly to establish the app as a long-term social network.
TikTok is on the right track as more brands look to it to expand their social media marketing reach. If it can capitalize on brand engagements, it will undoubtedly grow and may even be able to compete with other social media platforms.
Developer(s)
ByteDance
Initial release
September 2016; 5 years ago
Stable release
21.6.5 / 18 October 2021
Operating system
iOS, Android
Size
442.5 MB (iOS)
88.0 MB (Android)
Available in
40 languages
Type
Video sharing
Website
tiktok.com
douyin.com
Conclusion
ByteDance Ltd., a Chinese company, owns TikTok, a video-focused social networking service. It features a wide range of short-form user videos, including pranks, stunts, tricks, jokes, dance, and entertainment. TikTok was launched in most markets outside of mainland China in 2017 for iOS and Android. On August 2, 2018, it merged with another Chinese social media service, Musical.ly, and became available globally.
So, now that you've read the preceding, I hope your TikTok worries are gone. In a nutshell, it is a company based in China. Have you read our most recent article, What Does IBM Stand For?
If you have any further questions, please leave them in the comments section and we will gladly respond.