Video-making has become a must-have skill nowadays. Whether you are an influencer on Instagram or an entrepreneur trying to make sure your content reaches more people, videos are the best way to ensure success. So in this article, we will give you an in-depth invideo review But not everyone can indeed be a pro at creating and editing high-quality videos. Well, that issue has been resolved. InVideo is here to help you out. It is video editing software with great features that can help you create amazing videos with ease.
If you want an all-in-one platform for video editing, InVideo can be your one-stop destination as it comes with tons of powerful features. These amazing features and your creativity will surely create top-notch content. Even if you are a newbie in video-making, you will be able to master it easily after browsing the app for a little while. You can also browse tutorials on YouTube to help yourself out.
 InVideo has a bunch of cool templates, video clips, sound effects, and so on. This platform also lets you convert text-based content into videos. And the best part is that you can do all these within 10 minutes. 
InVideo is freely available on web browsers and can be accessed through all kinds of devices – you can use InVideo on your smartphone as well as your laptop. It runs smoothly on Apple devices as well as Windows devices. You can open InVideo using Google Chrome for the most optimized experience. It is user-friendly and allows you to make the most of the video-making platform. We know Canva's free pictures, music, and video files can be used for both commercial and nonprofit purposes with Canvakitz Let's know about some of the features of InVideo and understand all the tools it provides.
Features of InVideo
Thousands of useful templates
Text and visual enhancement
Voice-over support
IVA (Intelligent Video Assistant) to recommend corrections
Amazing 24-hour live support
Import your videos and images
Great special effects including speed-merge and theme-based visual effects
Text to video conversion
Invideo Review
What Kind of Videos Can You Make Using InVideo?
There are no such limits; using InVideo editor, you can create every kind of video you want. This platform provides an amazing variety of formats to suit all your needs. InVideo supports all social media platforms. You can create stories, reels, IGTV videos for your Instagram, posts for Facebook and Instagram newsfeed, Twitter timeline, Snapchat stories, and YouTube videos as well.
You can create the intro and outro for your YouTube and IGTV video using the templates provided in the app, or you can create your own from scratch. You will find all the templates you need for these platforms on the homepage of InVideo. There is a search bar that will give you options related to the keywords you type to ease up your search.
As mentioned earlier, InVideo has a variety of templates to suit your needs, namely, ads, brands, bite-size ads, COVID-19 pandemic, invitations, video testimonials, listicles, offers, products, presentations, snackable videos, etc. 
Worried about finding the right audience for your content? InVideo has got your back. With InVideo's smart features, you will not have to worry about whether you are making the right content for your target audience or not. The home page of InVideo will provide you with all the suggestions and ideas you need while creating a video to reach your goal. Its templates can be customized on the subjects you want for your video. If none of the templates live up to your expectations, you can start from scratch with a blank template and create your very own and unique content. 
The templates available on InVideo are huge time-savers because the remaining task easily fits into the templates that you choose. Users often worry that if they use pre-made templates, their content won't be original. But that certainly isn't the case because the template will just make your video easier to process. The remaining elements, such as sound effects, music, fonts, pictures, voice-overs, etc., are the ones that will build the core of your video. InVideo will sort everything out for you and enhance the quality of your content in the best way possible.
Pricing of InVideo
One of the many things that make InVideo stand out from other editors is its absolutely free plan with no trials. If you are new to the field of video making and want to keep practicing to sharpen your skills, InVideo's free plan would be an amazing way to begin. The free version of this platform comes with many useful features that include numerous templates, a magnificent media library, text-to-speech conversion, and so on. The free version can also be extremely helpful if you use it wisely to produce quality content.
To get access to more amazing features of InVideo, you can subscribe to an amazing Business plan. This plan is perfect for social media influencers, small businesses, and start-ups searching for premium content.
Want to unlock the best of InVideo? There's a plan for that too! Subscribe to the Unlimited plan for only $30 per month and get access to the most wonderful features of this platform. There will be no limitation to the usage of your exports or media. 
Both the Business plan and Unlimited plan come with a 7-day trial, so you can use and choose the best for yourself. You are sure to be impressed with the great features and the quality of the content it helps you create at such affordable pricing. Even though InVideo doesn't have an app yet, with your support, the app might be on the way soon to ease up your video editing experience even more. 
Now that you know about the amazing features this platform provides with this review and are excited to use it, here's a small tutorial to help you make your very first video using InVideo with ease.
How to Create Your First Ever Video Using InVideo-A Short Tutorial
Total Time: 30 minutes
Search Invideo in search engine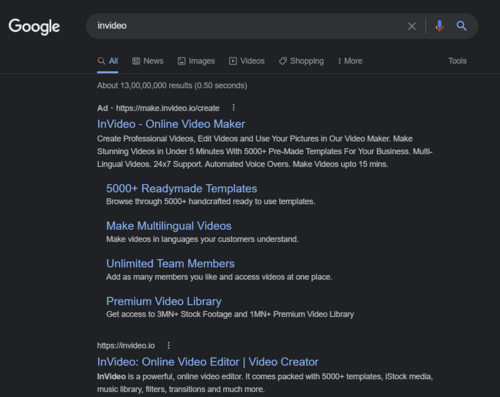 Head to your browser and type InVideo in your search engine. Soon you will find InVideo's website on the top of the results. Click on InVideo's website.
Choose Template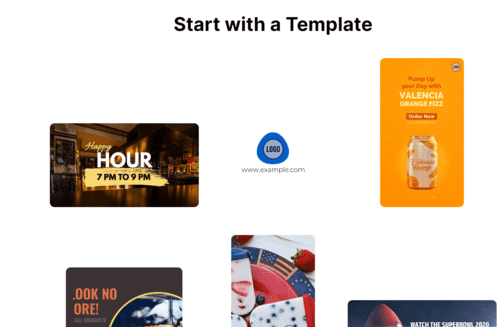 Once you head to the website, your first step will be choosing a template of your choice and the dimensions. You will find a search bar located on top of the website. Type out your requirements in the search bar, and the website will use your keywords to show you the templates you might find useful.
Start Customizing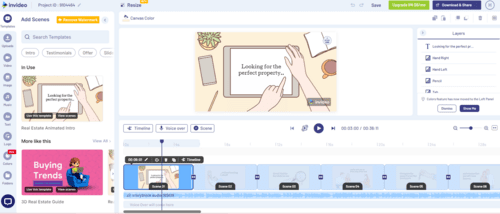 After entering the video editor, you will find a range of elements to add to your template. You can change the fonts, colors, images, and also background music to make it unique.
Save and Download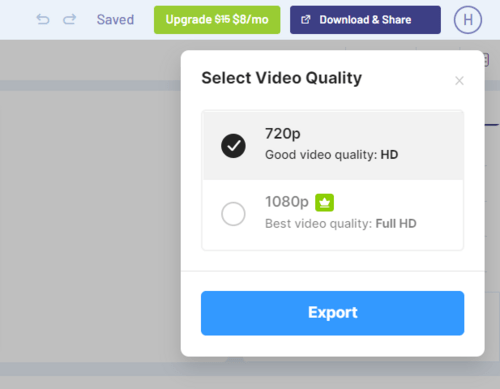 There's a sidebar of the website which will allow you to explore more templates. You can take your time to experiment with the elements to create videos. When you are done and happy with the outcome, you can save the results by heading to the top bar and clicking the 'Download & Share' button.
Supply:
Tools:
Materials: invideo software
Faqs About Invideo
What is InVideo used for?
InVideo is an online video editing tool that enables companies of all sizes to make films with bespoke content and branding and publish them on social media and websites. you can check more details in our Invideo Review
Is InVideo copyright-free?
You can choose from millions of copyright-free videos on InVideo. However, you should tick the 'Include Copyrighted Images' box if you wish to use copyrighted media (we don't advocate it, but if you have to, it's a good idea).
What is the cost of InVideo?
InVideo is invoiced monthly or annually, with two pricing options starting at $30 per month. A free option is also available, which covers the watermarking of up to 60 films per month. InVideo Business: $30 per month (or $180 if paid annually – comparable to $15 per month) for 10 iStock photos and videos, unlimited premium photographs and videos, unlimited premium templates, and 60 HD video exports each month. InVideo Unlimited costs $60 per month (or $360 per year, or $30 per month) and includes 120 stock photos and videos, unlimited premium photographs and movies, unlimited premium themes, and unlimited video exports. you can check more details in our Invideo Review
How good is InVideo?
"BEST Video Editor 2021" 
The InVideo app is the most user-friendly and intuitive video editing and creating program available. For all of my video content for my business, I utilize InVideo. All of the videos I make with this app get wonderful reviews. The music, graphics, and video selections are all fantastic! you can check more details in our Invideo Review
Is InVideo a good video editor?
According to G2 Crowd and Capterra, InVideo is one of the best-rated video editing tools, having a 4.8/5 rating on both platforms. Large corporations such as ATT, Aspen, Microsoft, and Reuters use it as well. you can check more details in our Invideo Review
Can I use InVideo on mobile?
Yes, You can actions like trimming, color correction, and volume control can be aggravating on a mobile device because getting the sliders to where you want them might take minutes.
Does InVideo have an affiliate program?
Yes,
they do have an affiliate program. you can check more details in our Invideo Review
Conclusion
Needless to say, InVideo is a smart and powerful video editing platform that can be helpful for both beginners and professionals. This platform gives you the freedom to explore your ideas to create content that matches your expectations. One can create wonders with the adequate features and equipment of InVideo. Give InVideo a shot today and share your experience with us.