Does Starbucks deliver? -Any real caffeine addict understands that sometimes you need your coffee fixed quickly and with as little effort as possible. Starbucks delivery allows you to get your favorite drinks and goodies brought directly to your home – no grinding or brewing required, at least not on your side!
Continue reading for more information about Starbucks delivery, including how it works and how to place an order! Let's start with Does Starbucks Deliver?
Does Starbucks Deliver?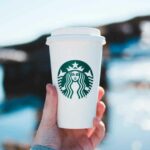 Yes, Starbucks delivers beverages, snacks, and food to most US locations.
You can order food from any Starbucks shop and have it delivered with Uber Eats.
You can find out if Starbucks delivers in your region by clicking here.
Starbucks announced in the fall of 2018 that Uber Eats will begin delivering for them.
Their objective was to provide new digital experiences for their clients while also improving convenience.
The concept was inspired by China's efficient meal delivery systems.
Starbucks created packaging to guarantee that food kept the necessary temperatures, hot or cold, in conjunction with the decision to begin deliveries. Next, we will see How Many Countries And States In The US Have Starbucks Delivery?
How Many Countries And States In The US Have Starbucks Delivery?
From 2020 to 2022, Starbucks, in collaboration with Uber Eats, would be delivering to 49 markets across 29 states in the United States alone.
Starbucks currently operates delivery services in more than 15 worldwide regions, and it collaborates with other delivery platforms such as Alibaba in other areas of China.
What specialty drinks are available for delivery?
Since early 2019, Starbucks coffeehouses have offered delivery in select areas under the Starbucks Delivers service. Starbucks Delivers offers the majority of the popular goods offered in shops, such as hot and cold coffees, teas, and other beverages, as well as breakfast and lunch items, bakery products, and snacks.
While certain menu items may not be available for delivery for practical reasons, Starbucks is constantly exploring ways to extend the delivery menu and invites customer recommendations on what things they would like to see included.
Which Delivery Service Is Best for Starbucks?
Uber Eats Delivery Service Is Best for Starbucks.
Meals may be ordered using the Starbucks app, online, or through Uber Eats.
You will note that the shipping time fluctuates when you place your purchase.
Starbucks stores choose delivery timings based on their location and demand.
The typical guideline for Uber Eats delivery to Starbucks is that it will arrive 30 minutes after you place your order.
What is the cost of having Starbucks delivered?
The cost of having Starbucks delivered varies on where you reside. Uber Eats normally charges a delivery price based on the distance between the Starbucks store and your location, thus the greater the delivery fee, the further away you are. However, depending on the time of day or week you place your order, there may be extra costs. Ordering during peak hours, such as lunch or supper, may result in a higher delivery price.
If you want to have Starbucks delivered cheaply, it's wise to order during off-peak hours. In any event, all ordering and payments for Starbucks delivery are handled through Uber Eats, so if you don't already have an account, you'll need to get one. Simply put "Starbucks" into the Uber Eats search box and choose your chosen products from the menu once you've created an account and provided your payment information. Then just input your address and select a delivery time, and you're done.
Why Should You Consider Using Starbucks Delivery Service?
Starbucks has only been able to offer what were formerly figments of human imagination by utilizing an efficient, completely automated food delivery system.
There is no doubt that using the Starbucks meal delivery service has several perks.
There are various reasons why you should be pleased about using Starbucks' delivery services.
It's convenient, especially after a night on the town. You don't have to wake up hungover and fight to get dressed to go to Starbucks. To preserve your comfort, you can have your favorite meal brought to you.
You don't have to go outside in the cold to get your coffee fixed
If you're an intern on a coffee run, you may quickly request it to be delivered to you rather than wandering around with a handful of coffee cups.
It saves you time. Instead of attempting to find a Starbucks in your region, you can finally attend meetings or lessons on time. next, we will read Does Starbucks Deliver on DoorDash?
Is Starbucks available through DoorDash?
Yes, Starbucks is available through DoorDash.
Despite the fact that Uber Eats is Starbucks' official delivery partner, you may still order Starbucks delivery through DoorDash or Postmates in some areas.
However, be in mind that unaffiliated applications like these may not contain up-to-date menu information.
Because Uber Eats is Starbucks' official delivery partner, you can be certain that whether you order delivery online or through your Uber Eats app, your order will be delivered straight to your local Starbucks.
When you order through an unaffiliated app, the delivery driver may put your order in person when they pick it up.
Unaffiliated applications are also not guaranteed to have updated menus or to display out-of-stock products at a certain business.
Unaffiliated applications are also not guaranteed to have updated menus or to display out-of-stock products at a certain business.
Can You Use a Starbucks Gift Card on Uber Eats?
Unfortunately, because Uber Eats is a third-party with its own infrastructure, you cannot use a Starbucks gift card while ordering delivery through it.
You may, however, utilize a gift card while ordering from Starbucks online for the pickup via their website or app.
There is also no way to earn Starbucks points with Uber Eats right now.
You may, however, still earn and redeem points on the Starbucks app or website pickup orders.
Uber Eats takes debit and credit cards, PayPal, Apple Pay, Google Pay, Venmo, and Uber Eats gift vouchers in addition to debit and credit cards.
You may pay for your Starbucks delivery order using any of these options.
How Popular Is The Starbucks Delivery Option?
According to a 2020 study on the popularity of Starbucks delivery services, it has continued to expand.
The service has demonstrated its ability to resist competition from other franchisees.
According to the statistics, expenditure on Starbucks delivery services has increased.
By the fourth quarter of 2019, there had been a 207 percent growth over the previous year.
How Do You Cancel A Starbucks Delivery Order?
You may cancel an order on Uber Eats, primarily due to delays.
To cancel, click the back arrow button to return to the list of assistance articles.
Finally, for further information, tap on the "Cancel my order" option.
How Long Does A Delivery From Starbucks Take?
The employees in charge of delivering your Starbucks purchases work hard to guarantee that they arrive on time.
Despite this, it's important to realize that some conditions might create delays.
When you place an order, you will be notified of the approximate delivery time.
It refers to the earliest time you should anticipate receiving your purchase.
This time is adjusted in response to circumstances that may interfere with the delivery.
The second time is "Latest Arrival By," which is calculated based on past orders.
These are estimates and may not be accurate.
If your Starbucks order comes before the "Latest Arrival by" date, it is on time.
It does not entitle you to a refund or credit.
If your order comes after the "Latest Arrival by" date, you must contact Uber Eats support.
Do it within the next 48 hours to find out what they can do for you.
The policy at Uber Eats is that if you do not pick up your delivery after the delivery person contacts you, you will be charged.
In that case, you are not entitled to a refund.
Can You Earn Rewards For Ordering From Starbucks?
Starbucks does not provide Rewards when you purchase through Uber Eats.
The reason behind this is that Starbucks and Uber Eats are two separate organizations, with Uber Eats having its own payment mechanism.
As a result, Starbucks delivery does not qualify for Stars or Starbucks Rewards.
What Is the Starbucks Delivery Menu?
Keep in mind that not everything on the whole Starbucks menu is available for delivery, and availability varies by region.
For a comprehensive list of menu items available for delivery, see your Uber Eats app or contacts your local Starbucks shop.
Furthermore, if you order through a delivery service other than Uber Eats, menus and prices may be out of the current.
Starbucks frequently provides seasonal goods that aren't available all year, and individual outlets may run out of particular menu items on occasion.
Starbucks goods that may typically be delivered include:
Hot Coffees (including cappuccinos, lattes, and mochas)
Hot Teas (including chai and matcha lattes)
Hot Drinks (including hot chocolate, caramel apple spice, and crèmes)
Frappuccinos
Cold Coffees (including cold brew and iced lattes)
Iced Teas
Cold Drinks (including Refreshers, lemonade, and bottled drinks)
Hot Breakfast (including breakfast sandwiches and egg bites)
Bakery (including pastries, bagels, and cake pops)
Lunch (including sandwiches and protein boxes)
Snacks and Sweets (including chips, bars, and candies)
Oatmeal and Yogurt
Whole Bean Coffee
VIA Instant Coffee
Cold Cups (reusable cold beverage cups)
Tumblers (reusable warm beverage cups)
Mugs
Reusable Water Bottles
Does Starbucks Deliver on DoorDash?
Which Delivery Service Is Best for Starbucks?
Conclusion
Hope now you know Does Starbucks Deliver?
There's nothing like starting your day with a steaming cup of Starbucks coffee. However, going to the café might feel like an unnecessary effort at times. Fortunately, Uber Eats can now bring your favorite Starbucks beverages and menu items directly to your home.
Starbucks delivers via their official partner, Uber Eats. Other third-party delivery businesses may also provide Starbucks delivery, but rates and menus may be out of date.
Keep in mind that ordering Starbucks delivery incurs costs, and menu pricing may be higher than in-store prices.
If you want to learn more about Starbucks, read the articles listed below.