The Fire-Boltt Beast smartwatch has a 1.6-inch HD screen and can last up to 8 days on a single charge. It includes sensors such as a 24-hour heart rate monitor, SpO2 blood oxygen monitor, and blood pressure monitor. Aside from that, the smartwatch has multiple sport modes and is waterproof to IP67. Let's find out more about it and see what else it has to offer by reading more about it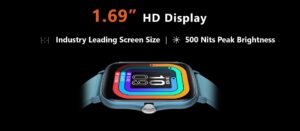 The Apple Watch Series 6 is the best smartwatch available right now, but anyone who understands how it works will tell you that it only makes sense if you own an iPhone. It's also one of the most expensive options available today, so Android smartphone buyers and those on a tight budget should consider other options. Although until recently, the smartwatch and fitness tracker segments were limited to a few big brands, they have recently seen a lot of new affordable options from small and emerging brands.
The Fire-Boltt Beast, a new smartwatch priced at Rs. 3,999, is one such product. The Fire-Boltt Beast, which bears a striking resemblance to the Apple Watch series in many ways, will appeal to buyers looking for an affordable but attractive smart wearable. SpO2 and heart rate tracking are two key features, making this an appealing option for the price. So, how effective is the Fire-Boltt Beast in the real world? Learn more in this Review for Fire-Boltt Beast Smartwatch
Product Features:
Bluetooth
1.69 in Touch Display
Water Resistant, IPX6
Heart Rate Monitor
SpO2 (Blood Oxygen) Monitor, Blood Pressure Monitor
Sleep Monitor, Calorie Count, Step Count
8 days Battery
SpO2, Blood Pressure Monitor
Before going for the review of the Fire-Boltt Beast Smartwatch you might take a look at the hw22 smartwatch review.
Review for Fire-Boltt Beast Smartwatch
Design of the Fire-Boltt Beast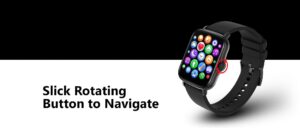 The Fire-Boltt Beast smartwatch has a 1.6-inch HD display. It has a pixel density of 242PPI and a resolution of 240x240px. It also boasts a peak brightness of 500 nits for improved performance in direct sunlight. Furthermore, you get an always-on display feature, and based on its display specifications, it is predicted to deliver decent graphics with improved crispness.
The smartwatch is designed to be slim and lightweight (47 grams), making it comfortable to wear. It has a complete metallic body with soft-silicone watch straps. The watch is available in three different colors: black, light pink, and sky blue.
The Beast is nearly the same size as the 44mm variants of the Apple Watch Series 6 and Apple Watch SE, with a 1.69-inch screen, and it looks very similar to them. Although it has a metal frame, the area around the glass sensor area on the back is made of plastic.
There are a few other significant differences, which are unsurprising given the Fire-Boltt Beast's price. These include the watch's traditional-looking lugs and straps, charging contact points on the back, the rotating dial in the right side's center, and the screen's shape, which is not symmetrically aligned with the watch face. To charge the watch, the included charging cable magnetically attaches to the area around the contact points and plugs into a USB Type-A port on the other end.
The smartwatch's black rubber strap is adequate and provides a good fit, but you can easily remove it and replace it with aftermarket straps if you prefer. I found the Fire-Boltt Beast to be extremely comfortable to wear for extended periods of time, including while working out and sleeping.
The display, despite being large at 1.69 inches and boasting a claimed brightness of 500 nits, does not cover the entire front of the smart watch; there is a large strip of non-screen space at the bottom, which looks odd. When using watch faces with a non-black background, the lack of uniformity is immediately apparent.
The Fire-Boltt Beast is available in three colors: black, blue, and pink, with black being my favorite. The watch's metal body has a nice brushed finish that looks good no matter which color you choose, but the black option is the most sophisticated and discrete. The rotating dial also functions as a button, and it's a pleasure to use, with good feedback every time you turn it one point in either direction.
Step and sleep tracking, as well as heart rate and SpO2 monitoring, are all possible with the Fire-Boltt Beast. It can control music playback and the shutter on your paired smartphone, as well as display call, SMS, and app notifications for popular apps like WhatsApp, Instagram, and Facebook. It's even dust and water-resistant, with an IP67 rating. The Beast can also be used to track various types of workouts, among other things.
Software, interface, and app for the Fire-Boltt Beast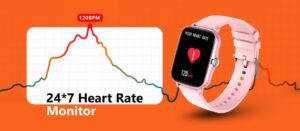 The Fire-Boltt Beast runs its own software, with a user interface that is heavily influenced by Apple's watchOS. The bubble-style app drawer, the control centre and its icons, and some of the watch faces are some of the key similarities. Other watch faces are inspired by Amazfit and Xiaomi smartwatches and fitness trackers, among others.
On the homescreen, scrolling with the dial cycles through the saved watch faces, while pressing the dial button turns the screen on or off. Swiping from left to right displays the app drawer in bubble view; swiping from up to down displays the control center; swiping down to up displays the app drawer in list view; and swiping from right to left displays fitness and biometric data like steps, sleep hours, and heart rate, as well as other details like the weather and controls for your phone's music player and camera shutter.
It was all a little awkward to use, and the watch didn't always recognize swipes correctly, resulting in me seeing the wrong screen. The smartwatch's screen also doesn't wake up with a tap; you'll have to either press the dial or use the wrist raise gesture, which I found to be inconsistent. The built-in apps are also oddly designed, with unappealing fonts, and there is no way to install additional apps.
The Fire-Boltt Beast syncs and charts fitness data sends notifications and lets you change various settings and preferences, such as watch faces, DND mode, and alarms, using the Da Fit app (available for iOS and Android).
Additional watch faces for the Fire-Boltt Beast can be downloaded and quickly transferred to the watch, but only one non-default face can be stored on the watch at any given time. In terms of design and usability, it's a pretty good app. Throughout the review period, the connection between my Android smartphone and the Fire-Boltt Beast remained stable.
Before moving further do you know SONY Company Belongs To Which Country?
Performance, Connectivity, Sensors, and battery life of the Fire-Boltt Beast
The Fire-Boltt Beast smartwatch is water-resistant to IP67, making it suitable for sweaty exercises. You can also use the watch to control music and the camera. You also receive phone notifications and a variety of athletic modes such as running and walking, cycling, swimming, skipping, badminton, football, and so on.
The wristwatch also includes user-friendly sensors such as a 24-hour heart rate monitor, a SpO2 Blood oxygen tracker that analyses oxygen levels in the blood, and a blood pressure monitor.
According to the company, the Fire-Boltt Beast smartwatch has a 15-day full-power standby duration and an 8-day battery life on a daily basis. Furthermore, it is powered by a magnetic charger right out of the box.
The smartwatch includes Bluetooth 5 connectivity for a fast and robust connection. It is also compatible with devices running Android 5.0 or iOS 10 or later. It does not, however, support GPS navigation.
Many smartwatches and fitness trackers from smartphone manufacturers work best (or only) with other devices from the same brand. The Fire-Boltt Beast, on the other hand, is device-agnostic and is designed to work with both Android and iOS, as well as on its own. For this review, I used the smartwatch with an Android smartphone and had no issues with the functions that required this connection, such as call alerts and notifications, fitness data synchronization, and more.
Also Read
SAMSUNG GALAXY WATCH 3 Review, Release Date, Price, Bands, Comparison with Galaxy Watch Active 2
Surprisingly, unlike most wearable devices, the Fire-Boltt Beast does not require a traditional pairing process when it first starts up. The smart watch started up normally and immediately gave me access to all of the on-device features. In fact, the step tracker had already logged some steps; my first thought was that the review unit had been used, but the package was still sealed and the device appeared to be brand new.
I had to look at the included pamphlet to figure out how to pair the watch because there were no pairing instructions on the watch itself. It's not difficult once you know what to do, and it didn't take me long to finish. However, you are not required to pair the Fire-Boltt Beast with a smartphone or to keep it connected at all times.
The preloaded watch faces functioned well, displaying dynamic information such as steps, distance, and the date on the screen, but several of the complications, particularly those made to look like Apple Watch faces, were utterly static and non-functional.
The Fire-Boltt Beast can track steps, heart rate, SpO2, and blood pressure, with the first three working well in my experience. The Fire-Boltt Beast estimated 1,028 steps when manually counting 1,000 steps With an error margin of roughly 3% over a reasonably low step count. When compared to an Apple Watch Series 5 over 4,000 steps, the Beast measured 200 steps more.
When compared to the Apple Watch Series 5 and a normal fingertip oxygen saturation sensor, the Fire-Boltt Beast's heart rate and SpO2 tracking were both accurate. The watch takes around a minute to determine an appropriate heart rate reading, initially displaying me very low levels immediately following an exercise but finally catching up to the correct heart rate. Sweat around the sensor seems to be the source of the problem.
While the Beast claims to be able to detect blood pressure, I wouldn't place too much stock in the results because this is done with the sensor on the bottom of the watch. These data appear to be very rough estimations, as opposed to the more precise measurements obtained from specialist monitors. There is also sleep tracking, which is minimal but adequate given the device's price.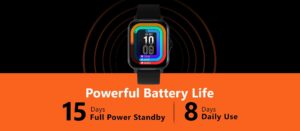 Other handy apps include the Shutter and Music apps, both of which operate nicely. The former allows you to use the smartwatch to control the shutter of the camera on your attached phone, which is useful when the phone is on a tripod or stand. The latter allows you to control music on your connected smartphone. The flashlight app makes the watch's screen brilliant white to provide a little light in dark rooms. There are additional apps for the Fire-Boltt Beast's stopwatch, alarm, and timer. There's also a 'Breathe' app that tries to mimic the rather relaxing one on the Apple Watch, but it's a strange and stupid imitation at best.
The Fire-Boltt Beast's battery life is said to be eight days on a single charge. The real-world figure is far lower; under my typical usage settings, which include regular fitness monitoring, notifications during the day, and sleep tracking at night, I obtained roughly three days of use per charge. When hooked into my laptop, the smartwatch charges quickly, topping up from zero in less than two hours.
FIRE-BOLTT BEAST SMARTWATCH FULL SPECIFICATIONS
General
Brand
Fire-Boltt
Model
BSW002
Model Name
Beast
Design and Body
Weight
47 g
Shape
Rectangle
Display
Type
Color
Touch
Yes
Size
1.69 in
Resolution
240 x 240 pixels
PPI
242 ppi
Connectivity
Bluetooth
Yes
GPS
No
Extra
Sales Package
1 Smartwatch, 1 Manual, 1 Magnetic Charger, 1 Warranty Card
Sensors
SpO2, Blood Pressure Monitor
Camera
Camera
No
Technical
Compatible OS
Android, iOS
Multimedia
Music
Yes
Battery
Battery Backup
8 days
StandBy Time
15 days
Features
Water Resistant
Yes
Water Resistant Certificate
IPX6
Meters and sensors
Heart Rate Monitor, SpO2 (Blood Oxygen) Monitor, Blood Pressure Monitor, Calorie Count, Step Count, Sleep Monitor
Warranty
Warranty
1 year
Verdict
It's not unexpected that other manufacturers are taking design and software cues from Apple. from our Review for Fire-Boltt Beast Smartwatch The Fire-Boltt Beast bears a strong similarity to the Apple Watch, but trained eyes will be able to discern the difference fast. To the untrained eye or from a distance, this smartwatch may easily trick folks into believing it's an Apple Watch; it's a good-looking wristwatch.
In terms of functionality, the Fire-Boltt Beast is a low-cost smartwatch, which isn't necessarily a bad thing in this case. At Rs. 3,999, it's a solid buy for the price, with reasonable step, heart rate, and SpO2 tracking, as well as a few additional features that users will appreciate. Although some of the watch faces and navigation in general were a little awkward for me, the overall experience was satisfactory.
Also Read