Realme Watch S Pro Specifications
Color:Black
Size:257.6*46.0*11.1mm(with wrist strap)
Weight:63.5g(with wrist strap)
Type:Removable wrist strap
Width:22mm
Adjustable length:152-223mm
Battery:420mAh
Theoretical Working Time:14 Days*
Screen size:3.5cm(1.39")
Resolution:454*454 pixel
PPI:326
6-axis Accelerometer Sensor
Geomagnetic Sensor
Gyroscope Sensor
Heart Rate Sensor
Wearing Monitoring Sensors
Bluetooth 5.0
Works with realme Link
Support Android 5.0+
Support iOS 9.0+
Automated Heart Rate Measurement, 24-Hour Heart Rate Measurement, Resting Heart Rate, Exercise Heart Rate, Heart Rate Alert, Blood Oxygen Measurement, Sleep Detection, Steps Throughout The Day, Calories, Distance, Drink Reminder, Sedentary Reminder, Activity Records
Outdoor Run, Indoor Run, Outdoor Walk, Indoor Walk, Outdoor Cycling, Spinning, Hiking, Swimming, Basketball, Yoga, Rowing, Elliptical, Cricket, Strength Training, Free Workout
Music Control, Camera Control, Find Phone, Meditation, 12/24-Hour, Stopwatch, Clock, Weather Forecast, Date Display, Dial, Cloud Multi-Dial(OTA), Custom Dial, OTA Upgrade, Multi-Language UI Interface, Multi-Language Font(OTA), Multi-Language UI Interface(OTA), Data Storage, All-Day Data, Automatic Motion Recognition(Running/Walking), Call Notification, Message Reminder, Alarm Reminder, Step Goal Completion Reminder, Binding Confirmation Reminder, Low Battery Reminder, Brightness Adjustment, Shake Adjustment, Wear Monitoring, Lift Wrist To Wake Screen, Power Saving Mode, No Disturb Mode, Quick Settings
With the introduction of the Realme Band earlier this year in March, Realme joined the fitness wearables market Where leaders like apple, amazfit and Samsung are present. The business pressed ahead and launched a second fitness tracker, the Realme Watch, in May, even though the fitness band was not as well-received as Realme would have predicted. The Realme Watch brought some major changes over the Realme Band, as some of its rivals did not think it to be as refined of a commodity. So we kept our hopes grounded when we first got the news that Realme was planning to launch two luxury smartwatches in India. I can confidently claim that Realme has learned from its errors after having used the Realme Watch S Pro for a little over a week and has eventually developed a device that can hold its own against Xiaomi and Amazfit rivals.
Realme Watch S Pro: Design & Display
The Realme Watch S Pro has a 46mm stainless steel case with two buttons on the right edge that control all of its functions. It packs a 1.39-inch AMOLED display in the chunky 46mm case and comes in a single black color variant with a black silicone strap. Three other color variants – Orange, Blue, and Green – will be available early next year. The company also plans to offer premium vegan leather straps for the watch, in four color options — Orange, Black, Blue, and Green. It uses standard 22mm quick-release straps, but you'll be able to pick any of the numerous third-party options based on your taste. The display has a resolution of 454 x 454 pixels, a pixel density of 326ppi, and a peak brightness of 450nits. The watch is protected by Corning's Gorilla Glass 3 to prevent scuffs and scratches in everyday use. I would've still preferred a smaller 42mm or 44mm variant, and I'm glad to see Realme taking steps in the right direction. You might be interested in reading about hw22 smartwatch and we hope you will like this watch.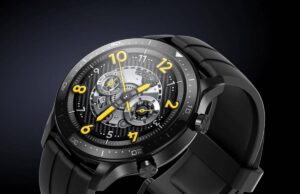 The Realme Watch S Pro has 5 levels of brightness settings and an auto-brightness mode. It comes with an always-on display feature, which displays the time, date, and day on the display in either a digital or an analog format. If you have a raise-to-wake switched on, I would not suggest using this tool.
Realme Watch S Pro: Features
The Realme Watch S Pro is a fitness tracker with a large display. It features a 6-axis accelerometer, a geomagnetic sensor, a gyroscope, a PPG heart rate sensor, and a wearing monitor. It also has step tracking, and 15 sports modes (including a new swimming mode) The watch also has notification support, a sedentary reminder, a water reminder, an alarm clock and stopwatch, music playback controls, camera shutter controls, a compass, breathing exercises and a Find My Phone feature. The watch has five widgets to the right of the home screen, including activity tracking, weather, sleep tracking, heart rate monitoring, and music playback control. You can get more detailed info on the Realme Link app about these features. The Watch S PRO also has a quick settings menu that you can access by swiping to the left of the home screen.In order to enable/disable power saving mode, flashlight, DND mode, and raise-to-wake functionality, it contains five fast settings tiles.
With over 100 distinctive watch faces, the Realme Watch S Pro comes with. Swiping up on the home screen and opening the app drawer reveals the watch's settings, workout modes, and settings. There's also a screen off timer option, a raise-to-wake option, and a System tab to restart, turn off, and reset the watch. It's worth noting that you can quickly access the workout modes by clicking the bottom button on the watch to access them.
Also read- Smartwatches in India under ₹15000
Charging & battery life
Realme states that with continuous heart rate tracking switched on, the Watch S Pro promises 14 days of use on a single charge and I found the assertion to be more or less true in my research. After a week of use, the battery of the Watch S Pro just drained to 54 percent with heart rate tracking set at 5-minute intervals, screen brightness set to level 3, always-on display switched off, no GPS use, and a 30-minute everyday indoor exercise. Realme Watch S Pro Charging CradleThis leads me to conclude that with a similar use case, the watch will comfortably last two weeks. If you toggle on the always-on monitor mode and make regular use of the GPS capabilities of the watch, however,
VERDICT
The Realme Watch S Pro delivered a significantly better user experience than the Mi Watch Revolve. I faced no software issues with the smartwatch and found its fitness tracking features to be more or less accurate. In almost all scenarios, the results delivered by the Watch S pro didn't deviate more than 5-7% from the Apple Watch Series 3. It's worth noting that I wasn't able to test the GPS performance as I didn't venture out of the house because of the current pandemic scenario. All of the watch S Pro's remaining features also worked as intended, including the always-on display and raise-to-wake function. The price difference is quite acceptable given the significant price difference between the two smartwatches. The only metric that showed a larger deviation was the number of calories burnt, but that's quite acceptable given the difference in price between these two watches. The watch is only available in India for now, so we can't comment on its accuracy or its impact on battery life.
The Realme Link app also performed quite well. syncing watch faces did take a long amount of time. The app displayed all the metrics in an easy-to-understand fashion.
If you're on the lookout for a luxury fitness tracker in the price range of under 10,000, the Realme Watch S Pro is, in my view, a decent investment. While it does not provide as many activity monitoring features as the similarly priced Mi Watch Revolve (review), without any unnecessary glitches, all the features it provides work as expected. Besides, it has a dust and water resistance ranking of IP68 and a stronger six-axis accelerometer that you don't get with Xiaomi's offering.
I can also consider having the Amazfit GTS (review) and Amazfit GTR (review) over the Realme Watch S Pro in case you're open to slightly older hardware since they provide just as many features and you can grab them during discounts for as low as $7,999. And if you're able to pay a few thousand extra dollars, the latest Amazfit GTS 2 and Amazfit GTR 2 are substantially better options, as they deliver a lot of enhanced features such as support for Amazon Alexa, storage, and playback of onboard audio, and more.
Price and Availability
Realme Watch S Pro price in INDIA starts From ₹ 9,999
Also Read